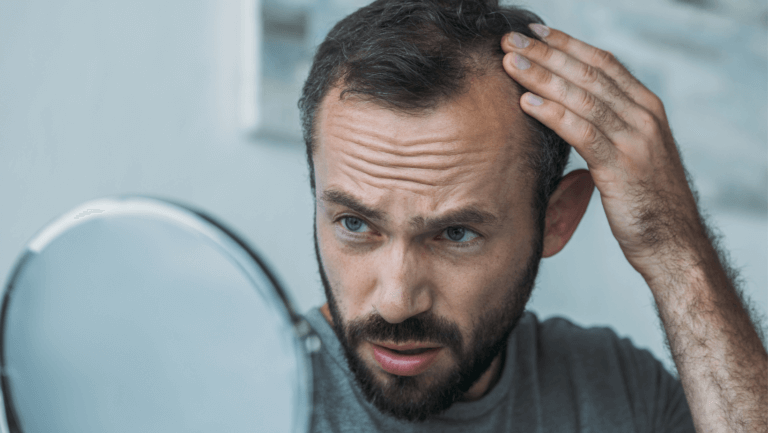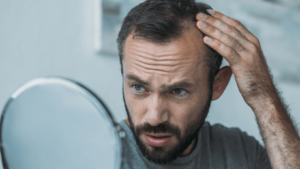 The most common causes of hair loss are alopecia areata and androgenetic alopecia (AGA or male-pattern baldness). There are now some new treatments for alopecia that offer at least partial solutions, which will stop hair loss from progressing. For many people, it is even possible to produce a reversal so that hair will grow back.
Alopecia areata so far
Alopecia areata (AA) is an autoimmune disorder that causes recurrent episodes of hair loss. It can affect any hair-bearing area, varying from partial (diffuse) alopecia to total baldness. Studies have shown that AA occurs in around two percent of the general population in the US. Some indications indicate that it may be genetically linked, age-linked, or even have geographic or cultural links. A study in China found that most patients diagnosed with AA experienced their first episode before age forty. The genetic link was indicated when positive family history was shown by 8.4% of the candidates – far more than would be statistically expected.
Conditions such as atopic eczema and vitiligo are associated with AA, indicating a shared but so far unidentified pathogenic mechanism. Some autoimmune disorders, such as systemic lupus erythematosus, share the same pathogenic genesis. 
Alopecia areata shows up with alternating flares and periods of remission. For patients under care, the relapse rate is 85%. For those who have needed persistent treatment for over twenty years, the relapse rate is almost 100%, indicating that AA is a progressive condition.
Before today, the choice of which path to follow when treating patients with AA has been based mainly on individual aspects, like the patient's age and the extent of hair loss. Therapeutic options like immunotherapy (diphenylcyclopropenone and dinitrochlorobenzene), intralesional corticosteroid injections, and systemic treatment (e.g., hydroxychloroquine) have been available. However, these are off-label treatments and have been shown to have, at best, limited benefits.
The latest news comes from the National Library of Medicine (National Center for Biotechnology Information), which cites research conducted by the Department of Dermatology at the Zealand University Hospital and the Department of Clinical Physiology, Nuclear Medicine and PET at the  University of Copenhagen in Denmark, the conclusion reached was "the available treatments for alopecia areata are of limited efficacy, and have a high risk of adverse effects and high recurrence rates, especially for patients with severe alopecia areata."
Coming soon for Alopecia areata – JAKi
According to the Danish research we cited above, "Janus kinase inhibitors are among the newly developed systematic treatments with great potential for the treatment of alopecia areata. … The results of this study suggest that patients with alopecia areata unresponsive to traditional therapies may benefit from treatment with Olumiant (generic name: baricitinib), Jakafi (generic name: ruxolitinib) and Xeljanz (generic name: tofacitinib)." 
We have been tracking and keeping up with the dynamics of JAKi and have published a few reviews of how there have been exciting developments. In the field of treating the skin condition eczema, you can read more in two articles, Treatments for eczema and similar skin conditions and A promising new treatment for atopic dermatitis. Closer to this article's subject, we picked up the theme when we wrote about using Xeljanz off-label to treat hair loss. 
We will keep watching this exciting area since it addresses one of the most important new trends in drug development. As we have discussed before here, off-label prescribing is a very well-established and wholly legal practice. Doctors are using off-label prescribing widely, treating many conditions, including psychiatric conditions such as schizophrenia and bipolar disorder and Crohn's with Motilium, hyperhomocysteinemia and hyperlipidemia with Reolin, and obesity with Metformin. At the same time, it falls inside the area of something we have been writing about for a while, which is that it's not always necessary to wait for drug companies to go through the prolonged and expensive process of getting FDA approval for treating a specific condition with their newly developed drugs.
Coming soon for sufferers of male-pattern baldness
Often as they grow older, men suffer hair loss caused by a condition known as androgenetic alopecia (AGA) or male-pattern baldness. It can appear as a bald patch on top or a receding hairline.
Alopecia areata is different from androgenetic alopecia, having different causes and effects. Hair can be lost from any part of the body, but most often from the head and face.
Can hair grow back after thinning?
There's good reason to be optimistic because, as well as the established medical options (the choice is mainly between topical foams like Minoxidil and oral meds containing finasteride like Propecia, which must be prescribed by a dermatologist), we can also recommend taking a dietary supplement like Phyllotex, which works as a new hair-loss treatment. Phyllotex contains all of the necessary vitamins and other essentials like zinc and iron, which can help stop hair loss and promote regrowth. You can learn more about its unique features here.
FAQ
Which foods could cause hair loss?
Nutritionists now say that while eggs are great for hair, they should only be consumed with being cooked. The egg whites, if eaten raw, can cause a biotin deficiency. Biotin is a vitamin that boosts the production of keratin. Avidin, present in raw egg whites, combines with biotin and slows down intestinal absorption.
What foods should be avoided with alopecia?
Dietary changes and adding supplements have both been shown to help people improve their alopecia areata symptoms. It may even be possible to produce some chance of remission. Deep-fried, gluten-loaded and ultra-processed foods and food and drink with added sugars may cause alopecia areata symptoms to worsen. Deficiencies can also play a part. Compared to people without the condition, people with AA have been found to have lower blood levels of vitamin D, zinc, and folate. It has been proven that the lower the zinc and vitamin D levels, the more severe the alopecia areata symptoms.
How do you reverse autoimmune alopecia?
As far as it has been determined so far, alopecia areata cannot be cured. Focus has been on how best it can be treated and bring the hair to grow back. In many instances, alopecia is treated off-label with drugs that are authorized for other conditions. 
What triggers my alopecia?
It's not yet fully understood what causes the attack on hair follicles, but it's believed that both genetic and environmental factors play a role. Research has found that the immune system can mistakenly attack hair follicles, causing inflammation. In some cases, this results in alopecia areata.