There's a promising new treatment for atopic dermatitis (eczema), thanks to the recent development of a new line of pharmaceuticals known as Janus kinase inhibitors (or JAKi for short). Doctors are able to offer promising new treatments for many conditions that previously had few or no good solutions.
2022 – the year of JAKi (Janus kinase inhibitors)
Several scientific websites (such as the National Library of Medicine) have recently highlighted the growing promise that JAK inhibitors offer treatment of a wide range of autoimmune diseases, one of which is atopic dermatitis (AD). 
In a discussion at the most recent American Association of Dermatologists annual conference, Dr. Brett King, Associate Professor of Dermatology at the Yale School of Medicine, called 2022 "the year of JAK inhibitors." He spoke at the conference about some of the new therapies for moderate to severe atopic dermatitis, including Rivoq (generic name upadacitinib) and Jakafi (generic name ruxolitinib).
Now, a study published in January 2023 titled "A systematic review of efficacy and safety of topical JAK inhibitors in the treatment of atopic dermatitis in pediatrics and adults" has identified the great benefits of applying both topical and systemic JAKi treatments for AD, with the conclusion that "the current systematic review provides evidence that topical JAKi are effective and safe in the treatment of AD. They were observed to significantly improve the patients' score on the Eczema Area and Severity Index, pruritus score, and reported pain compared to placebo. A meta-analysis reported beneficial clinical efficacy of both topical and systemic JAKi in the treatment of AD compared to placebo."
How JAK inhibitors will take over from current treatments for eczema
Topical steroids have been the mainstay of treatment for AD. Concerns about their safety and side effects have led to testing alternative treatments, such as topical Janus kinase inhibitors (JAKi). 
Recent research has shown that the use of topical JAK inhibitors (JAKi) has been shown to be effective and safe in treating AD. Clinical trials have demonstrated that JAKi can improve skin lesions, itching, and quality of life in patients with moderate to severe AD. JAKi can also be a helpful treatment option for patients with limited disease activity and those who have had long-term use of steroids and are looking for alternatives.
It is important to note that some potential risks are associated with using JAKi, including a slightly increased risk of infection and malignancy. However,  particularly for patients who cannot tolerate or have failed other treatments, the benefits of JAKi in treating AD should outweigh these risks. 
Overall, topical JAKi treatments are a promising new treatment option for AD that can offer relief for patients with moderate to severe disease.
More about atopic dermatitis
Atopic dermatitis is a chronic skin condition that is characterized by dry, itchy skin and rashes. It is the most common type of eczema. While the exact cause is unknown, it is thought to be related to a combination of genetic and environmental factors. There are three different types of atopic dermatitis: the persistent type, in which AD starts in childhood and persists throughout life; the relapsing type, in which AD appears during childhood with symptom-free intervals until adulthood; the adult-onset type, in which there are no episodes during childhood and AD starts in adulthood.
Some factors that may trigger atopic dermatitis include exposure to irritants, stress, changes in temperature and humidity, and certain foods or allergens. The symptoms can be uncomfortable and may interfere with daily activities, such as sleeping and working.
Until now, the standard treatment for atopic dermatitis typically involved a combination of self-care measures and medical interventions. Self-care measures include avoiding triggers, maintaining a regular skincare routine, and keeping the skin hydrated. Medical interventions may include the use of topical oral medications, creams or ointments, or light therapy. In severe cases, immunosuppressive drugs may also be used.
More about JAK
Janus kinase (JAK) is an enzyme that plays an essential role in the signaling pathways of various cytokines and growth factors. The discovery of JAKs dates back to the early 1990s when researchers identified a family of proteins with tyrosine kinase activity that is associated with receptors for interferon (IFN) and other cytokines. This enzyme family is involved in regulating a wide range of biological processes, including cell proliferation (growth), differentiation, apoptosis (cell death), and immune responses. Scientists have discovered that inhibiting JAK enzymes can be a promising strategy for treating various diseases, including autoimmune diseases like rheumatoid arthritis and psoriasis.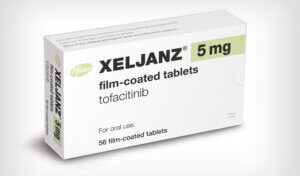 In 2011, the first JAK inhibitor, Xeljanz (generic name tofacitinib), was approved by the FDA for treating rheumatoid arthritis. Since then, several other JAK inhibitors have been developed and approved for the treatment of various inflammatory and autoimmune diseases, including psoriasis, ulcerative colitis, and atopic dermatitis. The development of JAK inhibitors has revolutionized the treatment of these diseases, offering a safer and more effective alternative to traditional therapies, such as corticosteroids and immunosuppressive agents.
One of the most significant benefits of JAK inhibitors is their ability to selectively target specific cytokines and signaling pathways, thereby reducing the risk of side effects associated with traditional therapies. Despite some limitations and possible side effects like increased risk of infection, malignancy, and other adverse events associated with long-term use of JAK inhibitors, the benefits far outweigh these negatives. Ongoing research is continuing to investigate the safety and efficacy of JAK inhibitors, including combination therapies with other immunomodulatory agents.
In conclusion, the discovery of JAKs and their inhibitors has revolutionized the treatment of various immune-mediated diseases, including atopic dermatitis. JAK inhibitors are becoming increasingly important in the management of several inflammatory and autoimmune diseases, and ongoing research is continuing to refine and improve these drugs. The future of JAK inhibition holds great promise for improving the quality of life for millions of patients with chronic inflammatory and autoimmune diseases.
Off-label use of JAKi drugs as a new treatment for atopic dermatitis
Most of the currently used JAK drugs were developed and approved for use in treatments of diseases other than atopic dermatitis, but have been found to be beneficial for AD and are widely prescribed off-label. Off-label use of all drugs is a prevalent practice and is entirely legitimate and legal. Currently, about one in every five prescriptions written in the US is for off-label use.
Ultimately, your healthcare providers decide what is best for you. They can prescribe any drug, whether or not it is labeled as intended for that specific use by the FDA. This is stated clearly on the FDA's website here.
"Once the FDA approves a drug, healthcare providers generally may prescribe the drug for an unapproved use when they judge that it is medically appropriate for their patient.… One reason is that there might not be an approved drug to treat your disease or medical condition. Another is that you may have tried all approved treatments without seeing any benefits."
Why should you buy your JAKi medications from IsraelPharm?
The first important point to clarify is that all the drugs we supply are sourced from fully supervised and registered manufacturers and approved by the Israeli authorities. We have highlighted reports of sub-standard and even toxic drugs being supplied by some other internet pharmacies, so it is worth repeating here that by law, we have to conform to the strictest standards as a licensed pharmacy operating under the supervision of the Pharmaceutical Division of the Israeli Ministry of Health.
IsraelPharm can only dispense drugs to customers under the supervision of a registered pharmacist and from our licensed pharmacy. The drugs must be listed in the Israeli National Drugs Registry. We must conform to the requirements for proper prescriptions from a licensed physician, only in the permitted quantities and strengths. 
The second important point we emphasize is that thanks to the universal coverage provided in the Israeli national healthcare system, drug prices are far lower here than in the US. On average, prescription drugs can be supplied by us at around 30% of the cost of their cost from US pharmacies.
For direct comparison, look at the prices of the three JAKi drugs we have dealt with in this article:
| | | | |
| --- | --- | --- | --- |
| Drug | Dosage | Average US price | IsraelPharm price |
| Xeljanz XR | 11 mg – 28 tablets | $2120 | $715 |
| Rinvoq | 15 mg – 30 tablets | $6,180 | $2,205 |
| Jakafi | 10 mg – 56 tablets | $20,275 | $1,995 |