As the COVID-19 vaccine rollout gathers pace, a population is at risk of being left behind: the millions of immunocompromised people around the globe who lack fully functional immune systems.
For them, vaccines may not be as effective, because they are less capable of making their own antibodies to neutralize the SARS-CoV-2 virus. Instead, pharmaceutical companies around the world are racing to develop alternative treatments that bypass the immune system altogether.
This makes it essential to start looking for ways to beat the virus with other tools, and fortunately, a new, unique product has come out of the high-tech microbiology labs in Israel that you can add to your defenses. The product is called Enovid, and we will tell you more about it in this blog.
First, a quick look at why it may be necessary to shift the focus away from vaccines as the only way to prevent the coronavirus pandemic from affecting immunocompromised people.
Breaking news
A new study published on medRxiv describes how immunocompromised vaccine recipients may not always respond as expected to the COVID-19 vaccine. The comparison was between one hundred immunocompromised patients who had received 2-dose vaccinations and 16 healthy healthcare workers. In the results, all of the healthy individuals showed the expected positive response post vaccination, while only 50%  of the immunocompromised patients show an antibody (humoral) immune response. The conclusion was that 21% of fully vaccinated immunocompromised patients are likely vulnerable to SARS-CoV2 infection.
The US Center for Disease Control and Prevention (CDC) on July 7th 2021 also warned people who are immunocompromised that the Covid-19 vaccine may not have been effective for them and encouraged them to take precautions:
"People who are immunocompromised should be counseled about the potential for reduced immune responses to COVID-19 vaccines and to follow current prevention measures (including wearing a mask, staying 6 feet apart from others they don't live with, and avoiding crowds and poorly ventilated indoor spaces) to protect themselves against COVID-19 until advised otherwise by their healthcare provider," according to the CDC's website.
Who is vulnerable?
Around 2.7% of the US population, amounting to more than nine million people, is classified as immunocompromised.
According to CDC, the issue of immunocompromise arises from a variety of conditions, mainly:
Solid tumor and hematologic malignancies
Receipt of solid-organ or hematopoietic stem cell transplant
Severe primary immunodeficiencies
Persons living with HIV
Treatment with immunosuppressive medications such as cancer chemotherapeutic agents, TNF blockers, certain biologic agents (e.g., rituximab), and high-dose corticosteroids
These people are more likely, when infected by COVID-19, to get severely ill because they are at higher risk for:
Prolonged SARS-CoV-2 infection and shedding (in other words, spreading their own infection by ejecting the virus in sneezing, breathing and coughing)
Viral evolution (such as was seen between the first form of SARS-CoV-2, which we now call Alpha, and the latest form, called Delta) during infection and treatment (hospitalized patients)
Low antibody/neutralization titers (meaning low levels of the antibodies that bind to the infecting virus and neutralize it) to SARS-CoV-2 variants
 More likely to transmit SARS-CoV-2 to household contacts
 More likely to have breakthrough infection (meaning an infection of a person who has already had either both shots of the vaccine, or was previously infected and recovered):

44% of hospitalized breakthrough cases are immunocompromised people in a US study
40% of hospitalized breakthrough cases are immunocompromised people in an Israeli study
Where the Vaccines Leave Immunocompromised People Behind
As outlined by US/Israeli transplant surgeon Dr. Dorry Segev, for immunosuppressed patients, "there's a problem in that in order for a vaccine to work, it needs to activate your immune system to create B-cell responses, T-cell responses, antibody responses, et cetera…These medications specifically target certain parts of the immune system, for example, to prevent transplant rejection, or to prevent your immune system from attacking yourself in autoimmune diseases.
In these people, the immune system's ability to respond to this vaccine is blunted. As a result, what is a celebration among everybody with normal immune systems is quite frustrating and frightening among people with suppressed immune systems."
For them, vaccines may not be as effective, because they are less capable of making their own antibodies to neutralize the SARS-CoV-2 virus.
What Can you do if you or a Family Member is Vulnerable?
Keep yourself up-to-date on the news. There are two immediate possibilities being discussed by healthcare officials and the government. One is to take a third "booster" shot of whichever vaccine you have already received. There is also the possibility of switching vaccines in order to get some added immunity from the different responses in your body. The problem right now is that vaccines were initially authorized under emergency regulations for two doses, and there needs to be some bureaucratic work done for any further doses to be rolled out. This will require another step in Washington before administering an additional jab is authorized.
Some other steps are to keep the virus away, not just by self-isolating or wearing a mask, but by creating a hostile environment around you so that it can't even begin to make you ill.
Let's make no mistakes here, we are strongly advising anyone who hasn't already had the vaccine to get it done ASAP. It is by far the most effective thing you can do for yourself, your family, and for the whole world. Talk to your healthcare providers about whatever else they feel can be done to provide extra protection.
A new development out of an Israeli lab emerged over the past few months and it is now available for you to add to your suit of armor against the virus.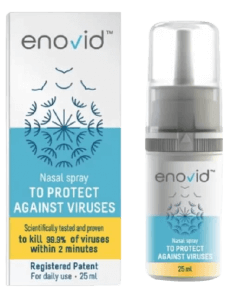 Enovid NONS
Enovid's NONS (nitric oxide nasal spray) also known as VirX, is brought to you by SaNOtize, a joint Canadian/Israeli biotechnology startup. It blocks the entry of viruses via the nose and also halts viral replication within the nasal cavity. This rapidly reduces the total viral load which is linked to the spread of the virus in your body. Its overall effect is to prevent transmission and lower the severity of infection.
Take your protection with you in your pocket or purse.