Recently we talked about Lipitor, an effective medication for treating high cholesterol. Today we will investigate the benefits of using a drug called Crestor to treat high cholesterol and the differences between them.
We have 2 types of cholesterol on our body LDL and HDL. LDL means low density "bad" cholesterol and HDL means high density "good" cholesterol. When you have high cholesterol it means that your LDL is higher than the recommended level and the LDL is not as effective as it should be. Having high cholesterol can lead to serious health complications like heart and vascular disease. This means that you have a higher chance of having a heart attack or stroke as your arteries are clogged up with plaque.
Lipitor and Crestor are quite similar in their function. Both drugs are statins that works to reduce LDL and triglycerides while increasing the HDL. Both drugs also work to clear arteries of plaque build-up. The human body uses an enzyme called HMG-CoA reductase to control the rate of cholesterol production. Both treatments work to block this enzyme and that's how it manages to reduce the LDL levels.
Crestor is a little harder on the body but achieves great results. A study done on 2011 showed that Crestor had better results in removing plaque build-up.
Crestor contains the active ingredient Rosuvastatin and is known to have 20% absorption rate. Lipitor contains the active ingredient Atorvastatin, which has a 12% absorption rate. Unabsorbed Crestor gets excreted through urine and feces but unabsorbed Lipitor gets excreted through the bile ducts with only 2% through urine and feces.  Crestor lasts 20 hours and Lipitor lasts 14 hours. Here is a good explanation on Quora that explains more about the difference between Crestor and Lipitor. This is all fairly medical stuff but most patients are simply concerned with the day to day side effects. Side effects are minimal and most people tolerate statin drugs without major side effects.
Below is a comparison chart with the top 6 common side effects, going from most common at the top to less common. Thanks to eMedTV we have included percentage rates of people who suffered from these issues.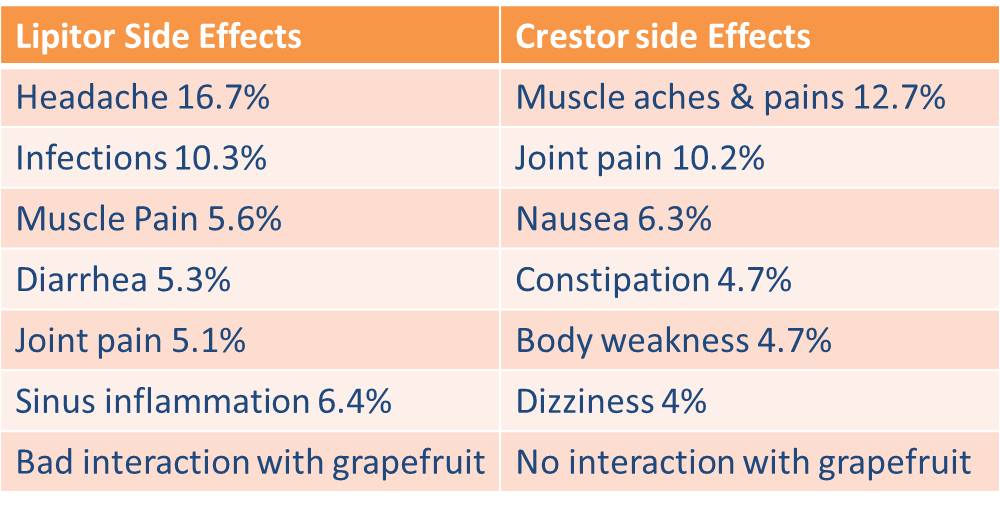 To get the best results help yourself as well; don't just reply on medication. Try to avoid eating fatty foods, drinking alcohol and follow a regular exercise plan. Keeping your weight and diet under control will help your progress. It's worth investigating if your insurance will cover a dietician consultation. Even if it's not covered it's worth seeing a dietician privately. They will advise a diet that fits in with your lifestyle and regular checkups will allow them to monitor your progress and reassess to get better results. Having the backup of a dietician definitely helps with motivation as well.
Before you start treatment make sure your doctor is fully aware of any over the counter or prescription medications that you take. Also inform them of any vitamins and herbal supplements so you can avoid adverse effects. Crestor can have a negative effect on your body when taken in conjunction with other herbal treatments, medicine and in some cases grapefruit products. You should also avoid taking Crestor if you are pregnant or have a history of liver, kidney or thyroid disease. You can also download this free leaflet by the Ministry of Health to find out more.
Crestor is available at Israelpharm. It is also known worldwide and may appear under the names Rosuvastatin or Stator. You can buy Crestor in 10mg, 20mg and 40mg doses.