I know we always talk about how much money you can save when buying prescriptions online but I just wanted to show you some case studies so you can see for yourself what happens when you head down that buying route.
We took 3 totally different prescription medications and looked at how much our regular customers were saving on each one.
Marion from Orville Texas ordered 3 packets of Aggrenox 25/200 at a time, she's saves on the shipping cost that way. She knows that she's going to be using Aggrenox long term so she doesn't mind thinking ahead a bit in order to save even more money. Marion was delighted to find us, we saved her over $930 over the last few months from buying prescriptions online.
Aggrenox helps reduce the risk of stroke and blood clots in people who have already suffered from a mini-stroke or blood clots. It's a very popular preventative medication but in the US it comes at a price. GoodRX helps people find the best prices for their medications locally, while they do a great job, it's but it's simply not good enough for many people. GoodRX puts the cheapest price for Aggrenox at $346 for a packet of 60 tablets. The IsraelPharm.com online pharmacy price for Aggrenox is $35. It means Marion is saving herself $311 on each packet when she buys her prescription online from us.
Another buying prescriptions online savings example comes from William who buys Multaq 400mg online from us. William lives in Las Vegas and his local pharmacy charge $440 for the same med. This might sound expensive but it's actually cheap. Some US chain pharmacies charge as much as $570 for 60 tablets of Multaq 400mg if you don't have any coupons or insurance. Is it an essential medication? We think so yes, while the cost of the medication is high it is nothing like the doctors' bills and hospital visits that might be needed otherwise. Multaq treats arrhythmia in people who have a history of certain types of heartbeat irregularities. The aim of the drug is to reduce episodes and hospital visits.  Over the last year William saved more than $700 when buying prescriptions online from IsraelPharm.com online pharmacy. The IsraelPharm.com price for a box of 60 Multaq tablets is $162 compared to $440. He didn't order in bulk like Marion did but this $700 annual saving takes into account the shipping fees that we charge for ordering medication online from us.
Elanor from Florida buys Nexium online from IsraelPharm.com. She's a repeated customer like Marion and William. Elanor takes Nexium 40mg daily but she cannot get it via her insurance anymore. Nexium locally would cost her $230 for 28 tablets, she buys it online repeatedly from IsraelPharm.com at a cost of $30 for the same amount. That's a saving of $200 a month for her when she buys her prescriptions online.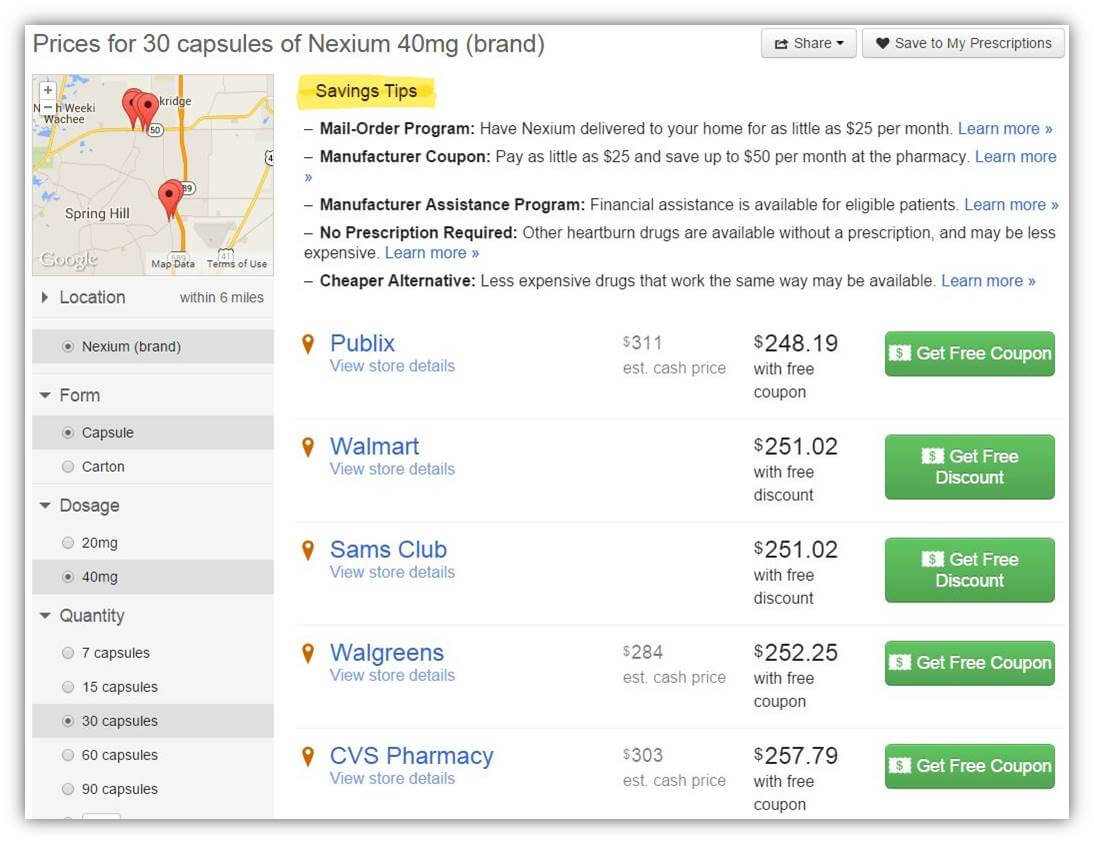 All these savings relate to buying branded medication not generics. The medications are exactly the same, made by the same pharmaceutical companies. The boxes look a bit different due to the packaging requirements in Israel but the meds are the same, just for a fraction of the price.
Marion, William and Elanor save tons of money on their meds – how much do you save?
If you're interested to know how much you could save then search for your meds below and take a look for yourself.

We are aware that there are other online pharmacies out there and while IsraelPharm.com gives great prices and a great personal service we know and understand that you will shop around online before finally deciding to buy your prescriptions online – and so you should.
Here's a few reminders about buying prescriptions online from Saul Kaye, our managing pharmacist. The most important thing to remember when you buy medication online is that you should only do it if you know and trust the source of the medication. It's not worth th saving if you get sick from the medication or it's not what you ordered:
Never buy from a site that does not require prescriptions on medications that normally do require medications. It means that the online pharmacy you are buying from is not an official pharmacy.
Check out the reviews on the site and on the medications you are about to order. This will give you a good indication of what the site reliability, customer service and quality of medications.
Stay clear from buying cheap generics from unknown manufacturers. If you see a cheap generic then check out the manufacturer name to make sure they are a trustworthy company with approved facilities.
Take a look at our full online guide to buying medication for more tips on buying medication and prescriptions online.