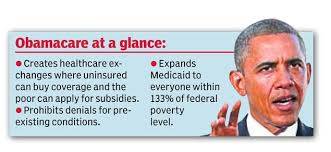 The new Patient Protection and Affordable Care Act – commonly referred to as Obamacare – came into effect at the beginning of this year.
Finding out exactly what that means to the individual person's pocket in terms of both cost or cover and range of benefits is harder than it should be. In the first place, although Obamacare is a Federal government program, the day-to-day function and controls, ranging from costs to benefits, are a matter for each individual State to determine. This has already resulted in a wide range of differences in the life of Obamacare so far. To understand why, it is necessary to know what the mechanism for providing insurance to individuals entails.
Health coverage that meets the requirements of Obamacare can be supplied by companies to their employees, or to a range of people who qualify for free or subsidized Federal health coverage (such as Medicare, Medicaid, CHIP, COBRA, retiree coverage, or TRICARE and VA health coverage). Anyone else must purchase cover from mandated health insurance companies, or pay a penalty. The key feature for individuals seeking cover is known as the Health Insurance Marketplace (sometimes known as the health insurance "exchange"). Each state must set up a Marketplace where individuals can shop around to find a plan that best suits their requirements.
So it's immediately apparent that finding out what the costs and benefits of Obamacare will be for you as an individual will vary enormously, depending on where you live, whether you are covered at work or by some Federal program, or have to go out and find cover in the Marketplace that meets your budget and requirements. For the purposes of this article, we want to reduce the area so that we can best explain what Obamacare means to you in one specific area, which is in how it will affect you in your needs for prescription pharmaceuticals.
Basically, the new act states that prescription drug coverage is one of the 10 essential benefits. All health insurance plans will be required to cover at least one drug in every category and class in the U.S. Pharmacopeia, the official list of approved medicines (referred to as "the formulary"). But coverage does not mean the drug is free – health care companies' coverage can range from 100% to something considerably lower, on a scheme known as co-payment or co-insurance. The amount you pay may differ enormously depending on your home State, the terms of your cover, and the actual drug. Then there is the question of whether the healthcare insurance covers only generic prescription drugs (commonly referred to as Tier 1) or will allow you to specify the drug manufacturer for some extra co-payment.
So if like most Americans, you are still in the process of signing up for health cover, and you need to know what to ask for when it comes to prescription drug cover, here is a list of fundamental questions:
1. Are the drugs that you need already in the health Exchange's formulary, and what is the level of co-payment?
2. If not, is there some mechanism for getting the specific drug to be covered, and at what cost (you may need to get your doctor's help in asking for a special "exception for medical need" in your case)
3. Find out whether the plan covers the number of monthly doses needed.
4. If you are taking medication for a chronic condition or something that has a high retail price, you may want to ask whether your plan maintains a separate list of specialty pharmaceuticals that are covered.
5. Ask about what options you have for sourcing the drugs – are you free to shop around on the internet for the best price, or must you use specific pharmacy chains tied-in to the Exchange.