Prolia® (generic name: denosumab) is prescribed for patients in danger of developing osteoporosis, usually due to the normal aging process that causes changes in bone density. Osteoporosis was previously thought to be especially prevalent in women in menopause, but it is in fact the most common metabolic bone disease in the United States, affecting both sexes. 
Symptoms of osteoporosis include pain, disability, and diminished quality of life. A Gallup survey performed by the National Osteoporosis Foundation showed that 86% of women with osteoporosis had never discussed their condition with their doctors.
How to treat Osteoporosis?
Recommended treatments include modifications to lifestyle, such as moderate and suitable exercise, reductions in nicotine and alcohol intake, along with dietary inputs like calcium and vitamin D.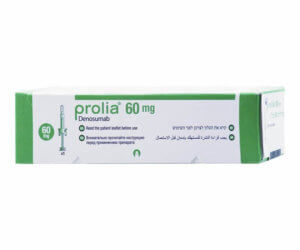 Prescribed drugs fall into three main categories – antiresorptive agents such as bisphosphonates, selective estrogen receptor modulators, and monoclonal antibodies such as denosumab. Bisphosphonates are the most commonly prescribed medications for osteoporosis. Still, there are many cases where reactions to other drugs rule out this choice, and in these cases, Prolia (denosumab) becomes the medication of choice.
More about Prolia?
Prolia (denosumab) is a form of immunotherapy that uses monoclonal antibodies to bind to the cytokine that inhibits the maturation, function and survival of osteoclast cells. These cells are responsible for bone reabsorption. A special advantage of Prolia is that it is only administered six-monthly via subcutaneous injection, making it a first-line agent for treatment of postmenopausal osteoporosis.
What are the side effects of Prolia?
There are very few serious side effects. These symptoms include infection of the abdomen or urinary tract, pancreatitis or ear infections. It would be best if you were referred immediately to the prescribing doctor or go to an emergency room in any such case. Be sure to inform them of the date(s) of Prolia administration.
More common but less severe side effects include :
Skeletal pain – back pain, extremity pain, Sciatica, Bone pain, 

Infections – Cystitis, Upper respiratory tract infection, Pneumonia, Pharyngitis, Pruritus, Herpes zoster

Spinal osteoarthritis

Vertigo, Insomnia, Asthenia

Circulatory problems – Peripheral edema, Anemia

Other pain – Upper abdominal pain, Angina, Atrial fibrillation, Myalgia

Rash, Flatulence, Gastroesophageal reflux
If these do not clear up within a few days of each dosage of Prolia, or get worse, you should consult with your family doctor or pharmacist.
In extensive double-blind tests, Prolia was found to be an extremely safe and effective treatment for osteoarthritis.
If you are going to receive an influenza vaccination, be sure to tell the administering doctor if you have had an injection of Prolia less than six months prior to the flu shot. Some forms of the vaccine are contraindicated or have diminished efficiency for patients receiving Prolia.