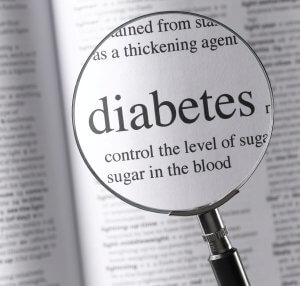 Diabetes occurs when the blood glucose (sugar) levels in your body rise to higher than normal. It's also known as hyperglycemia. There are two types of Diabetes, type 1 and type 2. Type 2 is the most common.
Type 2 diabetes means that the body has insulin resistance and does not use the insulin produced properly. Insulin is made in the pancreas. At first extra insulin is made to make up for the misuse of the existing insulin. However, over time the body can't make enough insulin to keep blood glucose at normal levels. You can read more at diabetes.org.
Type 2 Diabetes is one of those illnesses that many Americans are forced to treat with expensive medication. Unlike other illnesses that come and go, Diabetes is here to stay. The option of not buying your prescription medication is not a practical solution if you are struggling to find the cash each month. The prices are not astronomic but they can easily add up to $500 on your monthly medications bills, even if you have insurance. You might find that buying these prescriptions meds online is a better way for you to manage medical bills. IsraelPharm.com can help you save money on Type 2 Diabetes drugs. The prices are lower than even the lowest price even if you have a coupon from Good RX and often lower even than your insurance copay.
Here are some shocking price comparisons on four popular Type 2 Diabetes drugs.
Janumet price comparison, compared to Janumet coupon prices on GoodRX.
Janumet contains a combination of two active ingredients – Sitagliptin and Metformin, it's a very popular medication used for treating Type 2 Diabetes, but it's not cheap. It works together with exercise and a proper diet to control blood sugar levels in type 2 Diabetes patients.  According to GoodRX a 60 tablet supply of Janumet 50mg/1000mg can cost you $304.79 (the lowest price). IsraelPharm.com dispenses the same medication for as little as $97.50! That's a saving of more than $200!
Buy Janumet online to benefit from these great prices.
Januvia price comparison, compared to Januvia coupon prices on GoodRX
Januvia is also used to treat type 2 Diabetes. The active ingredient Sitagliptin works together with a low sugar diet and exercise to reduce blood sugar levels. The tablet is taken once a day and can be prescribed alone or to be used alongside other Diabetes drugs. According to GoodRX a 30 day supply of Januvia 100mg can also set you back $304.79. The dispensing price for this same medication on IsraelPharm.com is $95.36 – a saving of $209.43!
Buy Januvia online to benefit from these great prices.
Prandin price comparison, compared to Prandin coupon prices on GoodRX
Your pancreas produces insulin, which is needed to break down sugar in food. Prandin contains the active ingredient Repaglinide. Repaglinide helps control blood sugar levels by stimulating the pancreas so it releases insulin. In turn this insulin breaks down the sugar from the food we eat. Again, this medication is most effective when used in conjunction with a healthy diet and regular exercise.  The cheapest GoodRX price, with coupon, works out as $109.40 for 90 tablets of repaglinide 2mg, generic. IsraelPharm.com sells the same amount of branded and generic versions for $25. The price difference is shocking.
Buy Prandin online to benefit from these great prices.
Victoza price comparison, compared to Victoza coupon prices on GoodRX
Victoza is an injection containing the active ingredient Liraglutid that helps improve your body's control of blood sugar levels. It can be used alongside other Type 2 Diabetes medications. After using a prescription Victoza coupon discount, the cheapest GoodRX price for 3 Victoza injections is a staggering $575.41, and that's after taking into consideration coupons. At a price of $312, IsraelPharm.com can save you more than $263!, However Victoza requires refrigeration and buying Victoza online will mean that instead of the usual 30 days that you can have Victoza out of refrigeration – you will most likely have to discard it after 20 days – so take this into consideration.
Buy Victoza online to benefit from these great prices.
As you can see, buying medications online can save you a staggering amount of money. All prescription drugs sold on IsraelPharm.com are approved by the Israeli Ministry of health and are sold in accordance to the Ministry prices that come as part of the Israeli Healthcare system. You can now benefit from the great prices abroad as well.
If you take medication that is not listed here then feel free to email us for a quote at ask the pharmacist.
Not taking Diabetes meds can lead to other health complications like kidney damage, blindness, nerve problems, loss of limbs, and sexual function problems, as well as risk for heart attack or stroke. If you know someone who has Diabetes but is not insured or are paying high Copay then help them and tell them to look at buying online options, like IsraelPharm.com.