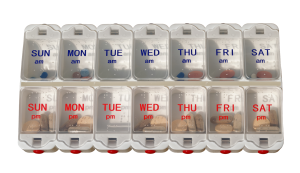 Keeping up with all your prescription and over the counter medicine can sometimes seem a little overwhelming and millions of Americans simply skip doses due to either forgetting or simply being too busy. You might even confuse the thought of taking the medicine with the actual action, as is the case with many repeated activities when we have a lot of memories of a task.
But there is good news! There are many creative methods that will help you remember to take your meds. Let's face it, your health is really important and skipping meds, even if only once in a while, is not something to play around with.
1. Physical reminders
This could be notes on your calendar or sticky notes which you can stick around the house in strategic places to help you remember to take your medication. They should also be placed at your desk at work if you need to take medication during the day.
2. Ask your doctor or pharmacist how to simplify the medication regimen
If you're really struggling with too many pills to remember at different times, it might be worthwhile to contact your doctor. Some drugs need to be taken two or three times a day but if you bring it up your doctor may be able to find a similar one that only needs to be taken once a day. Likewise, certain drugs interact with each other and so you need to take them at different times – but perhaps there is a different drug that doesn't, so you can take them both at the same time, making your life a lot easier! It definitely doesn't hurt to ask.
3. Learn about your medicine
Learning more about why you're taking the medication and the consequences of not doing so will motivate you to take your medications at the right time. Or it will at least motivate you to find a better way of remembering.
4. Never run out! (Make refilling your medicine a priority)
Yes, this is another thing to remember but it is important. When you see your medication is starting to run out make sure to set a reminder to order a fresh pack. This is not something you want to leave until the last minute.
5. Use technology
Technology is your friend. Really! Using your smartphone is an amazing way to remember to take your drugs. You can download a pill reminder app which will remind you to take specific pills at the right time, and will even keep a history of all the pills you have taken. You can even add photos of your medications for reference.
6. Get help from family and friends
Ask a family member or friend to help you organize your medicines and, if possible, remind you. If you know someone else who also has to take pills you can arrange to message each other to increase your chances of both of you remembering.
7. Combine with daily task
Taking your medication at a specific time during your daily routine will really increase your chances of remembering. For example, every time you finish your breakfast you take your pills. Or the last thing before bed right before you brush your teeth.
Choose a method that works for you, or combine a few methods. Medicine needs to be a priority as it helps you live a healthier and more fulfilling life. (gravityhair.com) Always keep your medication visible, but out of the reach of children.