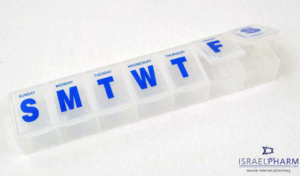 With millions of Americans taking more and more prescription medications, it can be hard to keep tabs on all of the different boxes and canisters you have sitting in your medicine cabinet. So how do you make sure your prescription drug maintenance is on track?
Here are a few tips to make sure you're taking the right  drugs at the right time without the headache.
Know your medication by name. Whether you keep a paper list, use a smartphone application, or keep tabs on your prescription drugs online in a spreadsheet or list, knowing their names is key. If you know what you're meant to be taking, when you receive your first doses or get a refill in the mail, you'll know that you've gotten the right thing. Try out the FDA's "My Medicine Record" to keep both you and your doctor on track.

Track over-the-counter drugs and supplements, too. When you go to the doctor, you're often asked what medication you're on. What most people don't consider is that their OTC medications, vitamins, and supplements play an important role in diagnoses and prescription drug maintenance.
Know what your medication is for. Knowing that you take a red pill for allergies and a blue pill for migraines will keep you on the right track for making sure you take the right thing at the right time. It also keeps you from dangerously taking the wrong prescription drug for the wrong ailment.
Stay organized. If you haven't invested in a pill box yet, you're missing out on a great opportunity for keeping on track with your prescription drugs without much work. Also, don't worry if you're fashion-forward. Pill boxes have gotten a hip upgrade! Pop over to Etsy for some creative ways to organize yourself.
Ask questions! Building a relationship with your pharmacist is one of the best things you can do to guarantee that you know your meds, how they work, and how to properly take them. At IsraelPharm, we pride ourselves on building personal relationships with all of our customers — so ask a question!
When it comes to prescription drug maintenance, the more information you have on hand, the more organized you'll be, and the healthier you'll be in the long run!
Do you have a favorite way of keeping on top of your medication? Let us know!