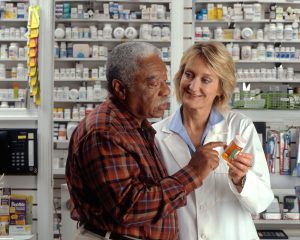 Are you a savvy healthcare consumer? With 70 percent of Americans taking prescription drugs, building strong relationships with your primary care doctor and pharmacist are absolutely necessary.
Think about it this way: A positive working relationship with your healthcare providers gives you a strong sense of control and your doctors and pharmacist a stronger chance of making sure you're on the right medication at the right time. It's a win-win situation!
Here are some of our tips to make sure you're building the right kind of relationship with your pharmacist.
Don't get overwhelmed! Most of us go to the doctor and then straight to the pharmacy to fill prescriptions, and that can be a lot of information all at once to devour. If you find yourself on information overload, take a few seconds to stop, regroup, and ask questions. Sometimes it's easier to ask pointed questions and get direct answers than to read all of the material you're given. 
Express your concerns. If your doctor prescribes you something that you're not entirely sure about, be open with your pharmacist about your concerns. Maybe you heard about a questionable side effect or an interaction with a medication you already take. If you're concerned, talk to your pharmacist. An open dialogue gives you control of your prescription medication maintenance and gives your pharmacist a chance to double-check your drug history.
Do a sensitivity check. If you have a special condition, make sure that your pharmacist and pharmacy staff are knowledgeable about it or willing to make it a priority. You want to feel comfortable talking to your pharmacist about your condition, because it will allow you to be more open and honest about your concerns. With IsraelPharm, we guarantee you complete privacy and sensitivity no matter what your condition — even as an online pharmacy, we are 100 percent committed to you.
Ask, ask, ask. Were you expecting a blue pill and got a red one instead? Was the box supposed to come with a 30-day supply but you only got 15? Is the medication information insert for a different drug than what's listed on the box? Take control of your prescription drug maintenance and talk to your pharmacist. It could be a glitch in the system, the prescription, or in the manufacturing. Turning a blind eye could put your health in danger in the long run. Also, always be sure to talk to your pharmacist if you have questions about the prescription label; sometimes they can be as Greek as Homer!
So take the reins on your healthcare and become a savvy, dedicated consumer. If you don't feel comfortable speaking to your local pharmacist, you can always reach out to our pharmacy staff with questions or concerns.