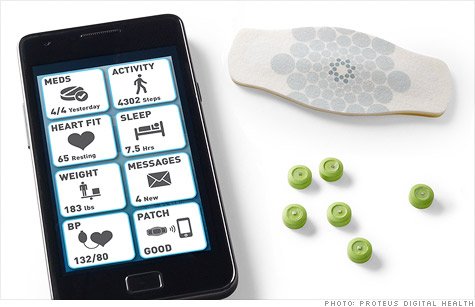 Here are some shocking statistics: Roughly 7 percent of electronic prescriptions generated in the United States have an error in them. If the doctor writes them down, they have a mind-blowing 37% error rate! When it comes to dispensing, errors occur 2-3 percent of the time, but you'd never know it by looking at prescription drug's label.
These figures, from MedSnap creator Dr Patrick Hymel, combined with the fact that nearly 50 percent of Americans fail to take their medication correctly has inspired a new technology that could help doctors and patients to better track prescription drug adherence, not to mention that the correct drugs are being taken.
"Human beings aren't robots, and if they're asked to take medicines or do anything that requires very high levels of routine repetition they are going to find that really tough," said Andrew Thomson, chief executive of California-based Proteus Digital Health.
Enter the Proteus: a microscopic, ingestible sensor that can be embedded into pills that uses required dietary minerals (copper and magnesium) to basically turn you into a battery. The two dissimilar metals paired with ionic fluid (i.e., your stomach acid) creates an electric charge. It's very similar to the concept behind using a potato to power a lightbulb, actually.
The electric charge created powers the sensor and sends information — like the drug's effects, whether it's the right dosage, or if it isn't working — to a patch worn by the patient. The patch also tracks vital signs, movement, and sleep patterns.
Want to send alerts to a caregiver or family member? What about a doctor? There's an app for that. Everything is collected in a cloud-based application, which can be accessed via smartphone, tablet, or PC.
Receiving the FDA's green light earlier this month, the possibilities and benefits of this microscopic sensor — yes, named after the cult-classic Fantastic Voyage of 1966 about a tiny ship that ventures into the human body — are being hailed by the medical community. Especially when dispensing and prescribing errors cost the U.S. healthcare system more than an estimated $200 billion each year (that's 8 percent of total annual U.S. healthcare costs).
We want to hear from you about this burgeoning technology. Would you be up for swallowing a sensor to make sure the prescription medication you're taking is the right dosage and is working the right way? Or is it a little too sci-fi for you?