Norvasc (generic name: amlodipine) is a drug intended for the treatment of the following conditions:
High blood pressure

Stable and prolonged angina (but not angina pectoris)

Vasospastic angina (also known as Prinzmetal angina), which is not caused by the narrowing of the arteries that carry blood to the heart but by their contraction.
Amlodipine belongs to the group of drugs called calcium channel blockers (CCBs). It causes the expansion of blood vessels and thus improves blood flow to the heart, improves the heart's oxygen supply and reduces blood pressure.
Medicines from the family of calcium channel blockers are recommended for treating high blood pressure both for patients without underlying diseases and those with conditions such as type 2 diabetes, kidney failure, heart failure or ischemic heart disease. It is also considered a drug suitable for elderly patients (65 years old and older).
According to the National Institute of Health website, calcium channel blockers (CCBs) effectively alleviate symptoms in 90% of patients. The use of calcium channel blocker therapy can be especially useful in preventing myocardial infarctions (heart attacks) in vasospastic angina patients.
Amlodipine is marketed under both brand (Norvasc) and generic names (Amlodipine, Amlow). It can also be prescribed in combination with the angiotensin II blocker valsartan under the brand name Exforge.
What are the main symptoms and causes of angina?
Angina is caused when insufficient oxygen-rich blood reaches the heart muscles. It may feel like squeezing, or compression of the chest, and the discomfort also can spread into the neck or jaw, shoulders and arms, and abdomen or back. It may also be felt as indigestion. 
Is angina a heart disease?
Angina is not a disease as such. Angina happens as a result of ischemia, when one or more of the coronary arteries is narrowed or blocked.
It is a symptom of an underlying heart problem, typically coronary artery disease (CAD) or coronary microvascular disease (MVD, which is more likely to affect women than men.) CAD involves plaque formation in the coronary arteries, which can narrow the blood vessels and block blood flow to the heart muscle. MVD occurs when there is damage to the inner walls of the coronary artery blood vessels, which can lead to spasms and decreased blood flow to the heart muscle, even if there is no plaque build-up.
High blood pressure and prolonged angina are conditions that may persist for a long time, so it is necessary to take the medicine daily. Do not stop taking the medication without consulting your doctor. 
What are the side effects of taking Norvasc?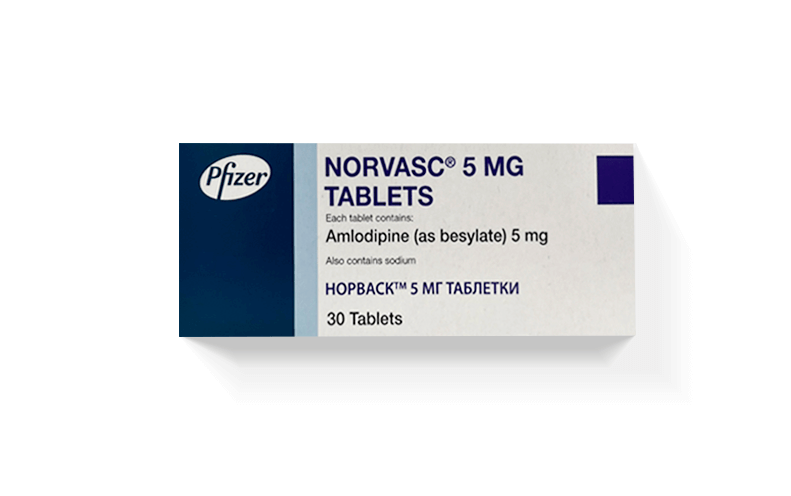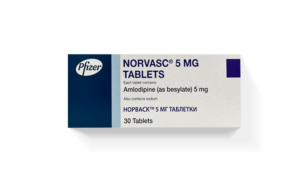 Norvasc's most common side effect is a feeling of dizziness or lightheadedness when rising from a sitting or lying position. You are advised to get up slowly and be sure to have something to grasp in case this happens.
Some reported mild side effects of Norvasc include:
Drowsiness

Swelling due to water retention

Headache

Nausea

Abdominal Pain
Norvasc side effects should not be felt long-term, so if these persist or get worse, discuss this with your prescribing healthcare provider or pharmacist.
There are also rare cases of more severe side effects, including pounding heartbeats or fluttering in your chest, sudden chest pain or the feeling that you might pass out. In such cases, call your doctor immediately or go directly to an emergency room.
Does Norvasc make you gain weight?
There have been no widespread reports of weight gain, but in some cases, this was happening due to fluid retention.
How long can you take Norvasc?
Norvasc is not a cure for angina and so will need to be taken as long as the underlying conditions persist. Your healthcare provider will need to be consulted before you make any changes in frequency or dosage.
Does Norvasc make you urinate more?
Calcium channel blockers like Norvasc decrease bladder contraction, which may lead to increased urination. 
Why you should be buying Norvasc from IsraelPharm
We can supply you with both brand Norvasc and top generics at considerably lower prices than you can at US retail pharmacies. A comparison:
| | | | |
| --- | --- | --- | --- |
| Name | Strength & quantity | US retail price | IsraelPharm cost |
| Norvasc | 10 mg x 30 tablets | $350 | $43 |
| Norvasc | 5 mg x 30 tablets | $276 | $32 |
| Amlow / Amlodipine | 10 mg x 30 tablets | $22 | $19 |
| Amlow | 5 mg x 30 tablets | $24 | $14 |
FAQ
What is the first drug of choice for hypertension?
For patients with simple angina, not angina pectoris, calcium channel blocker drugs like Norvasc are the first-line drug of choice.
Is Norvasc a good blood pressure pill?
As well as relieving the pain of angina, Norvasc works to lower heart pressure. You should be monitoring your blood pressure regularly, tell your doctor if your blood pressure readings remain high or increase, or chest pains continue or get worse.
What is the best time of day to take Norvasc? 
There is no specific advantage to taking Norvasc either at night or in the morning. What is important is to take the prescribed dose at about the same time each day. This way, you will be more certain of taking the medication each day.
What medications should not be taken with Norvasc?
Beta-blockers are contraindicated in patients with vasospastic angina because they could aggravate coronary spasms.
Usually, doctors will also avoid prescribing Norvasc along with the following:
Antibiotics such as clarithromycin, erythromycin or rifampicin.

Other calcium channel blockers like diltiazem or verapamil.

antifungal medicines like itraconazole or ketoconazole

Treatments for HIV

Treatments for hepatitis C virus.
Does Norvasc cause anxiety?
While there have been some reports of anxiety by some patients taking Norvasc, it has not been established that there is any causal relationship in those cases.