The FDA announced on February 5 that it has dropped the Evusheld medication that it had authorized for the protection of immunocompromised people from the COVID-19 virus. If this decision affects you, it may be wise to consider adding the extra protection afforded by the NONS nasal blocker Enovid, which can kill 99% of any variant of the COVID-19 virus before it can even get into your compromised system. 
The story so far…
Back in October 2022, the FDA recommended Evusheld from AstraZeneca as the only option for protecting immunocompromised individuals against COVID-19. This was necessary for people who may not mount an adequate response to COVID-19 through vaccination, and for whom COVID-19 vaccination is not recommended due to a history of a severe adverse reaction. It was authorized under an Emergency Use Authorization, to be administered every six months. 
Now, the FDA announced that Evusheld is no longer authorized for use in the U.S. until further notice. This is because of the rising rate of COVID-19 infections by the XBB.1.5 subvariant (currently around 28%), which means that Evusheld is not an effective treatment, given that it carries with it a higher rate of adverse side effects. 
The FDA announcement highlights that "…data show Evusheld is unlikely to be active against certain SARS-CoV-2 variants. According to the most recent CDC Nowcast data, these variants are projected to be responsible for more than 90% of current infections in the U.S. This means that Evusheld is not expected to provide protection against developing COVID-19 if exposed to those variants."
What does this mean if you are immunocompromised and are relying on the availability of Evusheld? 
Until there is another recommended treatment, if you are immunocompromised, you should take extra preventative steps to stop the virus from gaining a foothold in your body.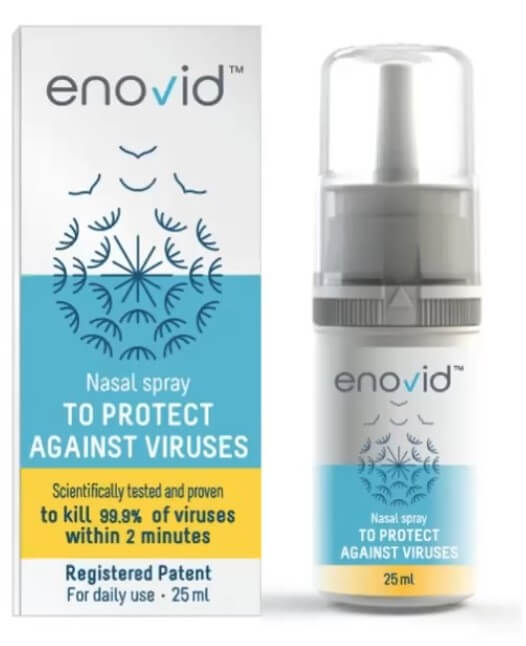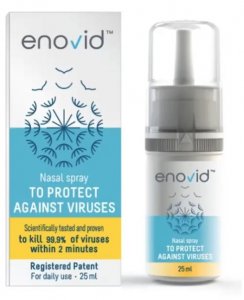 The main pathway through which COVID-19 infects people is the upper respiratory tract, as you breathe in air carrying the virus. That is why authorities have advocated masks as a first-level line of defense. But there are other ways to defeat the virus before it can implant itself in your nasal tract. We can strongly recommend the simple, cheap and effective addition to your protection, which is the nitric oxide nasal spray (NONS) nasal spray Enovid.
Enovid nitric oxide spray is a proven barrier to viral infection through the upper airways. If you already have a weakened immune system, then traveling on a crowded bus or train, sharing an elevator, or working in a closed room with others can leave you wide open to infection from someone else who may not themselves be feeling any symptoms because their own immune systems are capable of holding the virus in check. 
Better than a mask, Enovid blocks the ability of air-borne viruses to find a lodging place and infect your nasal passages. 
About Enovid NONS
NONS (nitric oxide nasal spray) halts viral replication at the point of entry in the upper nasal cavity. This blocks the infectiousness of any air-borne virus and will rapidly reduce the total viral load, killing up to 99% of the viruses within two minutes. It can prevent transmission and lower the severity of infection. Think of Enovid as a hand sanitizer equivalent for your nose.
Nitric oxide interferes with mRNA transcription and replication by inhibiting viral ribonucleotide or viral RNA synthesis. This is the same effect that the primary vaccines have. Both the vaccines and Enovid work to kill the virus before it has a chance to replicate.
Enovid was developed by SaNOtize, a joint Canadian/Israeli biotechnology startup. It Is now being marketed in dozens of countries and has achieved positive results and strong demand wherever it goes.
Especially important because of the withdrawal of Evusheld due to its weakness in fighting the latest variant of COVID-19, in trials so far, Enovid has proven to be effective regardless of the variant.
Understanding more about the issues for immunocompromised people
According to the Centers for Disease Control and Prevention, people with a weakened immune system (immunocompromised) are more likely to get infected by COVID-19 or be sick for a longer period. Immunocompromised patients are more vulnerable to the virus causing COVID-19 and have fewer treatment options. People can be immunocompromised either due to a medical condition or from receipt of immunosuppressive medications or treatments.
FAQ
What are the leading causes of immunocompromised conditions?
There are two broad categories:
Diseases
Examples of medical conditions that may result in immunocompromised systems include:
Malignancies in the blood (e.g., chronic lymphocytic and non-Hodgkin lymphoma, multiple myeloma, acute leukemia)

Primary immunodeficiency (e.g., DiGeorge syndrome, Wiskott-Aldrich syndrome, common variable or severe combined immunodeficiency)
Treatments
Examples of treatments that may result in immunocompromised systems include:
Active treatment for hematologic or solid tumor malignancies

Taking immunosuppressive therapy after receipt of a transplant

Receiving chimeric antigen receptor cell therapy

Receiving a hematopoietic stem cell transplant

Advanced or untreated HIVor AIDS infection

Treatment with high doses of corticosteroids, alkylating agents or antimetabolites

Receiving immunosuppressive cancer chemotherapy, TNF blockers, and other biologic agents