An opinion piece on breast cancer by Sara Flack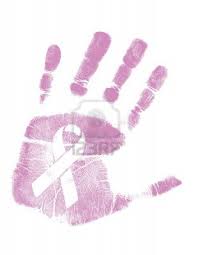 I came across this article for breast cancer awareness month and had to share it.
The article is based on a true story from a breast cancer survivor called Leah Nurik. Leah was diagnosed with breast cancer when she was only 37. That's generally before most doctors implement yearly breast checks of mammograms. It's a raw story of how she overcame her illness and how she hates the fluffy pink ribbons being paraded by women all over the world in honor of breast cancer awareness month.
Although everyone likes to wear pink and raise money with smiles on their faces and celebrate triumph over cancer Leah feels that pink doesn't really reflect the pain or true experience of breast cancer. Breast cancer she says reminds her more of "ugly cries, with blaring red, not pink, eyes, and fresh, purple mastectomy scars still so bright…."
Read the full article here. It's an eye opener and an excellent read.
I also don't like pink very much. I am not a breast cancer survivor but for starters pink is just not my color. So I have no pink ribbon and have not been wearing pink T-shirts this month. Instead, I am doing my best to post articles on social networks to help raise awareness of breast checking. This is my contribution to the awareness campaign.
While breast cancer mostly affects women it does also affect men.
While doing this I was struck by how many people seem to be ignoring the plight of men who have breast cancer. It's true that the number of women sufferers trumps the men sufferers but just think about those men for a second. Not only do they have a disease socially and traditionally referred to as a woman's disease but the branded symbol for it is a pink ribbon. It's these same attitudes that lead to men being diagnosed later. Many men perform testicle checks for testicular cancer and even screen for prostate cancer but rarely check their own breasts.
Don't get me wrong, I'm not saying that we should cancel the pink ribbon, just that we should not be so fluffy about using it.
Bet Miller, affectionately known as the "warrior in pink" was barely out of university when he was diagnosed with breast cancer. Had male breast cancer perceptions been a little different he might have been diagnosed earlier. He was very lucky that the lump he developed 7 years previously had not spread past stage 1 cancer. He is now clear of cancer.
Men make up 1% of breast cancer sufferers each year, with 430 Americans expected to die from it this year.
"Men often delay seeking treatment because they aren't aware that lumps in their chest or changes to their nipples are a serious matter. They certainly don't look for lumps in the regular self-examinations that women are instructed to do."
You can read more about Bret and his fight to put some blue into breast cancer here.
It's essential that you take care of yourself and check your breasts for any changes monthly. Women should definitely do it once a month but men should do it too, so encourage your partners to get on board with it!
Here is an easy guide to checking your breasts for signs of cancer. If you are worried about any signs or symptoms of breast cancer then visit your doctor. They will give you a professional examination and will then decide if you need a mammogram or not.
It's never too young to start checking your breasts. According to cancer.org, women as young as 20 should start doing self-examination breast checks regularly. By the age of 30 you should increase this to once a month. Clinical breast checks should be performed every 2-3 years increasing to once a year after the age of 40.
Don't presume that it won't happen to you. Breast cancer can be caused by genetic mutations like if you inherited the BRCA1 or BRCA2 mutation from parents but it's more common for there to be no genetic link – 85% more common to be precise. Basically it can happen to anyone. Male or Female. So check your breasts!
I'm 36. For the first time in over a year I will be checking mine tonight….and my husband's.